Begin with the right tools
When starting to venture into tuning your own piano, your main and first concern will be choosing the right tools.
The piano tuning tools technology is in constant evolution and it is difficult to evaluate the best options in a short period of time.
PianoTuningHowTo have done extensive research on that manner and we are confident that the piano tuning tools that we have chosen for you will be your best choice.
You need to be very careful when choosing your tools because if you chose the wrong ones, they could lead you to failure.
If you fail, you will never know if it was because of the bad tools you've chosen or your lack of ability to learn the trade.
I have find a lot of misinformation on the web as to what tools you should begin with.
So I took on me to choose the right tools for you so that we both move at the same speed.

The student quality piano tuning lever with its one piece tip-head USED TO BE a good option for a limited budget but now with the very good quality tuning levers produced in China, you are better off getting one of those  tools on eBay   
 or  Amazon .
Here are the most interesting ones I've found.
The first one was sold for only $29 but it comes equipped with a SUPER quality Watanabe star tip #2.  This tuning lever is a much better fit than the student quality piano tuning lever mentionned above but you might have a hard time finding it on the NET.
Found another one that was sold at only $26. It is slightly lower quality than the last one with its Watanabe tip but it is still better quality than the student quality piano tuning lever sold in North America.  If you find it on the NET, get it.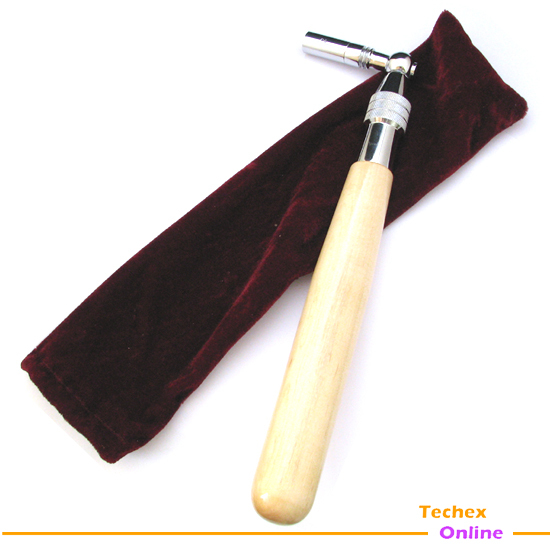 Here are the ONLY tools you will need if you follow my method
Tuning lever
60mm long star tip if you have a grand pianos
Tip wrench if you buy the pro kit
Temperament felt strip
The Papp treble mute
Two felt bass mute wedge
One narrow rubber muting wedge
One A=440Hz tuning fork
One electronic tuning device or tuning software for your laptop or SmartPhone
The Tuning Lever
Choosing the right tuning lever is very important.  It will be your main tool for years.
I had the opportunity to try the low student quality piano tuning lever.  The one with HEAD AND TIP all in one piece and I must say that it does work. After some problem with the fitness of the tips, those tuning levers are OK to purchase now but represent the minimum quality.
The low quality piano tuning lever is an option but I strongly suggest you go for the better quality tuning levers. Please check the tuning levers mentioned at the beginning of this page.
STAY AWAY FROM THIS ONE:
If you are serious about tuning your own piano, you deserve it to yourself NOT to get the cheapest piano tuning lever for it will not serve you well.
AVOID THE GOOSENECK TYPE OF TUNING LEVERS AT ALL COST!

This type of tuning levers will damage your piano and your learning will suffer.
The head and tip are of poor quality and this tuning lever wobbles around the tuning pins making it very hard to "feel" the pins even for an experience piano tuner like me.
The Pro tuning lever found in the ToolKits bellow this page will follow you for many years.

After an extensive research online, I have found some Ball Handle Tuning Levers.
Please note that for the impact tuning lever manipulation method that PianoTuningHowTo teaches, you will be better off getting a Ball Handle Tuning Lever.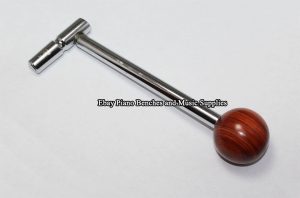 This quality Solid Rosewood PRO EXTENSIBLE Tuning Lever is a good choice if you can find it on the NET!

A Good Ball Handle Tuning Lever Available on eBay. Click image.

Another good fit is this pear handle solid ebony Pro tuning lever at $119. The head is of superior quality Jahn type.

The Temperament Felt Strip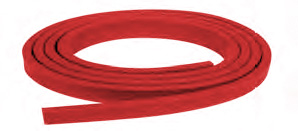 Using a temperament felt strip makes tuning your piano much easier than using a whole bunch of wedge mutes to mute strings while establishing the temperament.  I will show you how to use it when establishing the temperament tuning with one octave and a half in the middle range of the piano.  Notice that this felt is "tapered" to make it easier to insert in the limited space over the hammer heads at the upper region of the temperament.
Using the temperament felt strip to tune the middle region of piano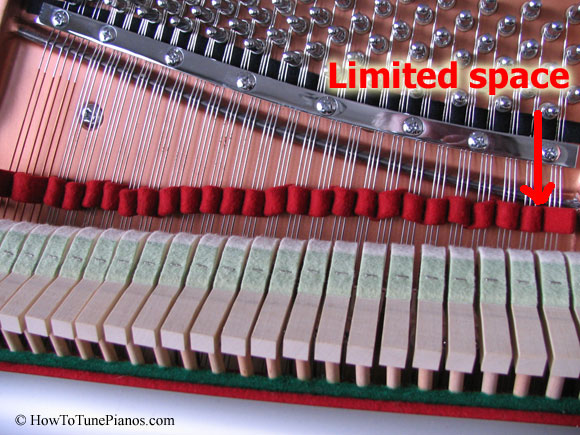 Papp's Treble Mute

I will show you how and why it is better to use Papp's treble mute to tune the upper region of the piano.  Here is an animation about this that you can also find on the "about" page: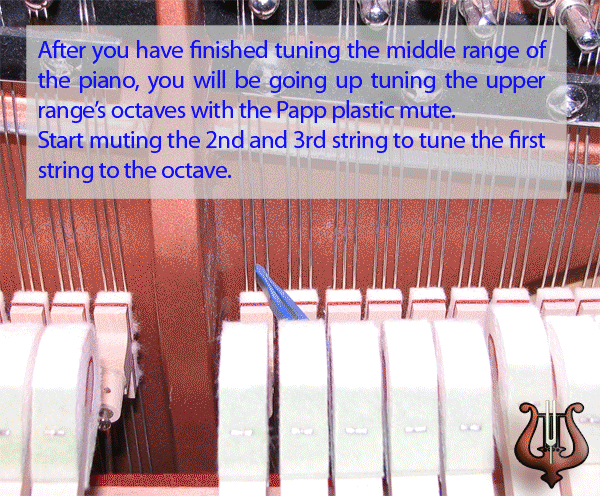 The Bass Muting Wedges
The bass strings are very long and are harder to mute than the shorter treble strings.  This is why you need a wider wedge to mute the bass strings.  In the tuning kit you can purchase on this page, you will get the rubber wide tuning wedge for the bass.


The Narrow Muting Wedge

This tool is very important.  You wont need it often but when you do need it, you'll be glad you have it.  It is used to mute two strings that are too close together so a regular bass mute or even a regular treble rubber mute wont work.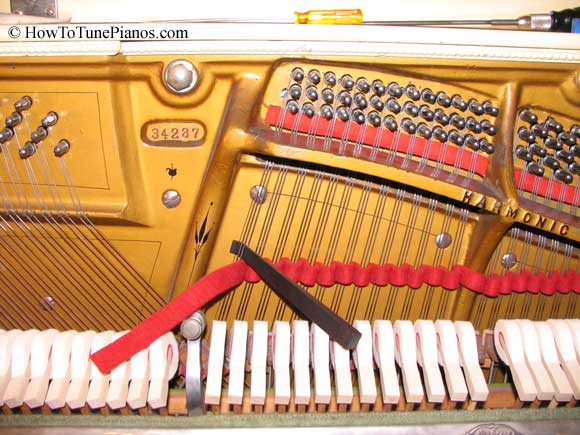 The Tuning Fork
You will need one quality tuning fork pitched at A=440Hz.  You will get the John Walker blue steel superior quality tuning fork with the tuning kit.

The Electronic Tuning Device
Here is a list of Electronic piano tuning Devices that are worth considering.  I have ordered them by price from the most affordable ones to the more advanced machines.
You can get a very cheap tuning device like the Korg CA-40 Large Display Auto Chromatic Tuner for under $20 to start (and it WILL work) I have tested this machine with my Peterson V-SAM strobe tuner and it was giving me the same reading so both machines came out with the same results.

But as soon as you get more "serious" about piano tuning, you will want to move to the next quality level with the Korg OT-120 Wide 8 Octave Chromatic Orchestral Tuner for around $75.

The Korg OT-120 piano tuning electronic device
If you plan on producing videos for your website or recording live music of your band's rehearsal, you might as well go for the fantastic ZOOM H2 audio recorder with built in chromatic tuner and metronome.  I consider this tool a better fit than the next one, the more expensive Peterson Virtual Strobe Tuner.  If you are into music like a lot of piano tuners are, you will like the added features that the Zoom H2 will give you.
This is a very versatile tool.  The Zoom H2 has 4 internal microphones and can capture audio in stereo and 4 channels surround.  It can be used as a USB mic for recording your voice in your computer with pristine clarity.  It can be used as an MP3 player with the included stereo headphones.  Most importantly, it has a built in chromatic tuner you can use to tune pianos.  Double this with an internal metronome, it is the perfect tool to evaluate the beat-rates of intervals when establishing the temperament.  For under $400, you can't go wrong.
I've been using the Peterson Virtual Strobo-tuner VS-1 for many years. Unfortunately, it is not available anymore.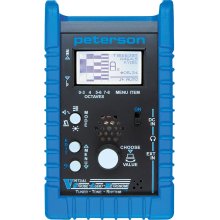 Another alternative is TuneLab Piano Tuner for Pocket PCs, Smartphones or your LapTop.
Notable features:
Can be calibrated to an accuracy of 0.02 cents.
Measures and uses inharmonicity of the piano to construct the tuning.
Provides an over-pull mode for pitch-raises.
Can store hundreds of tuning files for individual pianos.
Provides many historical temperaments for period music.
Switches notes automatically when you play the next note.
Provides a strobe-like phase display for fine-tuning.
Provides a versatile spectrum display with a Fourier Transform.
The top level electronic piano tuner is the Peterson AutoStrobe 490 Strobe Tuner at $642 for advance piano tuners.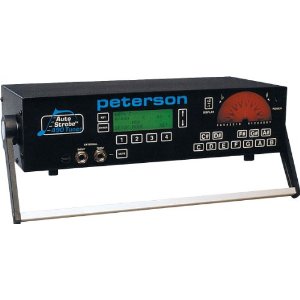 For advance users, the Peterson Auto Strobe 490 is the State Of The Art piano tuning device.  Often used in Laboratories and piano manufacturers around the world. Click here to get it on Amazon.

Here is the Standard tuning kit that you can get from different USA supplyers.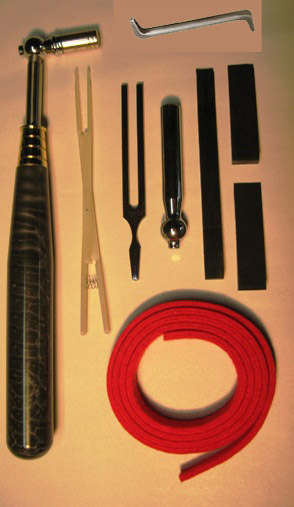 Pro Tuning Lever
4″ long head-tip #2 for grand pianos at 5 degree angle
Muting Felt strip – 7/32″ thick x 50″ long – Tapered from 3/4″ to 1/2″ wide
John Walker Tuning Fork (A-440)
Papps Treble Mute
Narrow Mute 6″ x 1/2″
2 Bass Felt Mutes 3″ x 3/4″
Tip Wrench, the perfect tool for changing tuning tips (and for tightening the tips)

Only $189.95
Best Buy! Pros Tools Made In Japan by Watanabe.
Get it from PianoteK (inscription)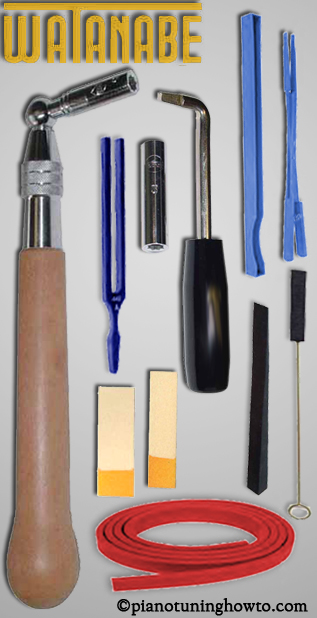 PRO TUNING HAMMER with
"ball handle"
10 degrees Head
Tip #2 Watanabe
4 inches bit for grand pianos
Tip tightening tool
Tapered temperament Felt strip – 7/32″ by 50″ long – tapered from 3/4″ to 1/2″
John Walker Tuning Fork (A=440)
Papp plastic mute for treble tuning
Wired rubber mute for treble tuning
Narrow rubber mute 6″ X 1/2″
Big Felt bass mute 3″ X 3/4″
Big Felt bass mute 3″ X 1″

Please do stay away from lots of junk sold on eBay and Amazon like the following picture. Notice the blue mutes! Anytime you see those blue mutes, stay away from it, this is pure junk!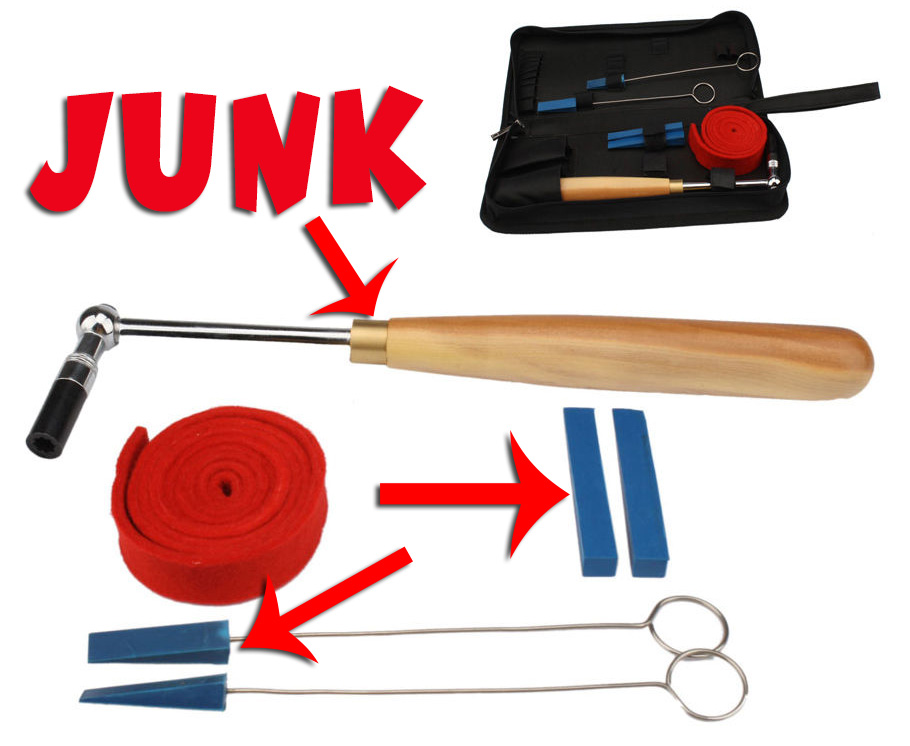 On eBay you will find complete sets of many tools in one single package. Those look like the following picture. You will find piano tuning tools from the tuning lever to regulating and action repair tools. I can confirm those are quality tools (I have tried them myself) A very good buy at around $349.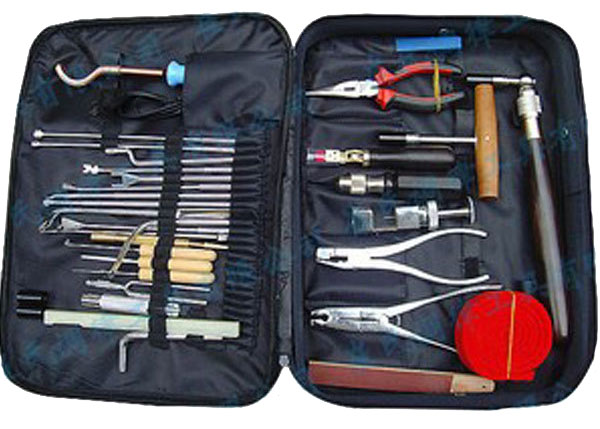 you will also find more affordable tool kit with 19 pieces at eBay for around $150.