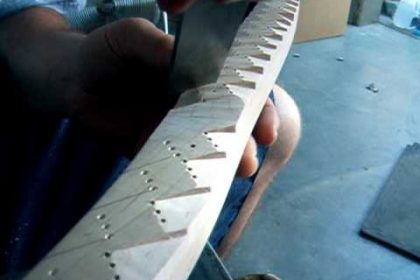 Watch Dr. Flugel, (aka John Ross Wilson RPT) from Flugelbauer Piano Supply, notch a piano bridge to perfection–WARNING–don't try this at home.
This is very generous from Mr. Wilson.  He gives us permission to enter his shop.
Notice he does a first "rough" run with a powered sanding tool and finishes with a last run with the power tool but with more precision.  Also at the end, he uses a wood chisel to finish by hand.
Building a piano bridge is a very delicate work.  Keep in mind that Mr. Wilson is cutting out from rock solid maple wood.  His cutting chisel must be perfectly sharpened.
Thanks Mr. Wilson.